Business Systems Course Description
ONLINE ONLY
You can offer the greatest coaching in the world, but you'll never survive if you don't know how to market and sell your program.
Is that a harsh truth? I used to think so…until my friend and mentor Bedros Keuilian showed me that selling and marketing can be easy, fun, and mostly automatic.
Nod along if you recognize what I'm talking about here:
Most trainers and coaches picture a sleazy car salesman when they think of "marketing and selling."
Most trainers and coaches want to focus only on coaching, because that's the part they love most.
Most trainers, even excellent trainers, end up stuck in dead-end, low paying corporate jobs, or they struggle to keep the lights on in their own gyms.
Now…can you see what's missing here?
What if marketing and selling was part of your personal mission? What if it came to you just as naturally as coaching does?
The key here is learning the RIGHT way to market and sell. No high-pressure sales tactics, no sleazy tricks—you need an elegant system that educates your community and makes them WANT to give you money in return for the life-changing service you deliver.
That way you could build your fitness empire, help way more clients, and earn the millions you deserve. That's exactly what I'm going to teach you in this course.
MEET YOUR BUSINESS COACHES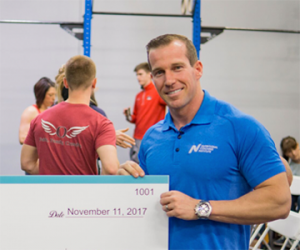 I'm Jason Philips, founder of the Nutritional Coaching Institute. I discovered the power of nutritional coaching as a young man when I recovered from anorexia and learned that the proper application of food can save lives.
Since then, I've personally helped over 1,000 people transform their lives through nutrition coaching. I've successfully scaled my business to a team of 14 coaches generating over a million dollars annually in revenue.
Now, my vision is to grow the Nutritional Coaching Institute to become the industry leader in nutritional coaching, and there's one very important thing I need before I can do that…
I need you to have a massively profitable, talked-about fitness business.
I'll confess, that is my selfish reason for including this business-focused module in the program. The more money you make, and the more clients you attract to your business using our systems, the more I can expand my personal mission to transform people's lives.
Let's take a look at what you'll discover working with me…
How to Develop Your Unique Selling Proposition (USP)—With the power of NCI coaching, you can offer truly unique results…but until you craft the right message, those results will get lost in the noise. Discover how to craft a laser-targeted sales message that compels your prospects and leads to buy now.
How to Build the BIG 3 Social Media Platforms (Facebook, YouTube, IG)—Facebook, YouTube, and Instagram are statistically proven to give you the most leads per dollar, especially in fitness. With our simple formula, you can start growing your platform on each of these three and start attracting new clients almost immediately.
How to Build a Responsive Email List of Leads and Prospects—Email is still the king of digital marketing—even with the rise of social media. Discover how you can use automated emails to attract new clients even while you sleep.
How to Build Your Brand Identity and Build a Loyal Tribe—The key is not YOUR identity; it's THEIR identity. If you use the right strategy, this means you can build a massively popular brand…while your own followers do 90% of the work. Fair warning: this strategy will only work for serious entrepreneurs and coaches.
How to Convert Social Media Followers into Leads—Followers, leads, prospects, and paying clients are each separate steps in the funnel. To turn followers into paying clients, you need a system to carry them seamlessly through each step. For the first step, we'll show you how to carve out a huge chunk of leads with the "low hanging fruit" technique.
How to Convert Leads into Prospects—They want to work with you, but do you want to work with them? Give yourself permission to be picky. Ironically, when you do this right, it will make your leads desperately crave the opportunity to work with you—even more so than if you left the door wide open.
How to Convert Prospects into Paying Clients—Selling is fun! If you disagree, it's only because you've been missing the proper set up. When you nail down the social media and lead generation systems, selling is a breeze. It's just a friendly conversation between you and the prospect. Discover the formula for fun, easy, reliable selling right here.
Discover the Last Missing Link to Making Multiple Six figures in Fitness
In all my previous NCI modules, I've talked about how nutrition coaching is the missing link between the trainers and coaches who struggle and the those who can command high prices and steady streams of clients.
Now, there's one more missing link you need to think about…
This is what separates coaches who DO command multiple six-figure incomes from the coaches who could make more money, but never seem to have enough clients.
That one thing is marketing systems and business systems and that's what this certification is going to give you in spades.
Now repeat after me…
"I will not become the coach who delivers amazing results to only a tiny handful of clients. I will use my gift to help the maximum number of people get healthy and I will be rewarded with a generous income."
"I will not become a 'hidden gem.' I will create omnipresence in my community. I will make sure everyone suffering from being overweight, being depressed, or lost self-esteem knows they can come to me for help."
"I will STOP hustling and grinding to bring clients into my business. Instead, I will create systems that bring new leads and clients to me, so that I can earn my time back and spend it on the people who deserve it most: my family."
To make sure each of those things come true, you need to install smart marketing systems. You need to have multiple streams of leads and prospects. Those streams need to be reliable and automated.
This is NOT a course about hustle and grind. This is a course about building a business that runs itself so you can focus on what you do best and still have time for your friends and family.
The truth is…you cannot reach and maintain a six-figure income on hustle and grind. You need systems in place to build your empire even while you sleep.
And frankly, you owe it to your clients and your community to build the biggest empire you can. Because if you don't, that means there are hundreds and even thousands of people who will keep on living in misery and poor health.
This is your invitation to embrace the business side of fitness, deliver an even greater service to your clients, and explode your personal income.
BUT…
Unlike every other NCI module, I'm limiting seats to 10 total because I want to make sure you get the attention you deserve.
If you don't sign up now and secure your seat, it might not be there for you later. I've had hundreds of fitness professionals begging for my coaching since before NCI existed.
That means this next meeting will fill up fast!
Click the button below to sign up for the NCI Business Systems!
Includes Live Zoom Call with Jason Phillips
Sorry, we couldn't find any posts. Please try a different search.