Hormone Specialist Course Description
ONLINE ONLY
Hormones are our most popular, most requested topic here at NCI. That's why we created a full module just to dive deep into hormones and how they affect your clients' weight loss, performance, and mood.
It's easy to see why they're so popular. Virtually everything in nutrition comes back to hormones. Especially these days, when we're correcting everything that's been done improperly. Understanding hormones is your key to becoming a well-rounded coach.
There's more to the picture than just eating clean—to give your clients the best possible results, you need to correctly identify which hormones are imbalanced. Then, you need to prescribe exactly the right foods and supplements to rebalance those hormones.
And that is a lot simpler than you think, once you learn our unique system for identifying and solving hormonal issues for your clients.
Meet Your Hormone Coaches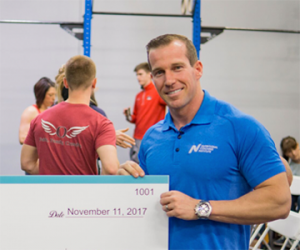 I'm Jason Phillips, founder of the Nutritional Coaching Institute. I discovered the power of nutritional coaching as a young man when I recovered from anorexia and learned that the proper application of food can save lives.
I've worked with everyone from pro athletes to weekend warriors. I was the first one to educate the CrossFit community on the importance of post workout supplements, and I've since gone on to work with UFC fighters, WWE wrestlers, and fitness celebrities.
These experiences have taught me that you don't need a "nutrition philosophy"—all you need is a tool chest of smart nutrition coaching techniques and a system to determine what your clients need right now.
So I created the Nutritional Coaching Institute to install in you the tools, mindset, and confidence you need to tackle any client's toughest eating challenges.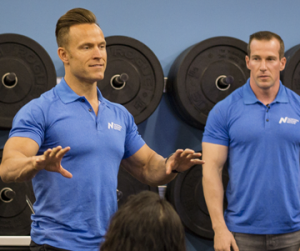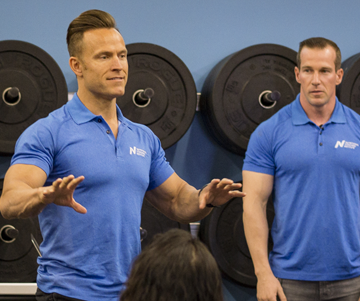 Travis Zipper is an expert on hormones and one of the most intelligent people I know. I was excited to work with him from the moment we met because I knew he could challenge me to stretch my own knowledge even further and deliver even better service to the fitness community.
Travis started as a straight diet coach in working in a medical weight loss and anti-aging clinic. Over and over again, he found himself hitting the same roadblock: he would give clients the perfect diet to follow, they would be super compliant, and yet they still wouldn't get results.
That's when he started to wonder about the role of hormones, starting with stress and inflammation. The more he discovered about hormones, the more he realized that other nutritionists and doctors were giving out horrible plans—plans that only caused their clients to stay overweight, keep having mood swings, and suffer from low energy.
Fed up, Travis leapt at the opportunity to join me as an NCI coach and teach people the truth about hormones. Now, he's worked with everyone from weekend warriors, to soccer moms, to high-end athletes, and he's gotten fantastic results with all of them. With this module, he'll give you the tools and techniques to help you do the same.
Let's take a look at what you'll discover working with Travis…
Check Out These Case Studies
Case Study #1 - The Semi Pro Athlete (Male, 27 Years Old)

Travis had another client who was a semi pro hockey player. When he came to Travis, he was suffering from low energy levels and performance issues.

Travis walked him through the Hormone Level Checklist and discovered that his hormone levels were too low, especially his testosterone. Thanks to this diagnosis, Travis was able to create a plan for the client that only involved dietary changes.

Once the client followed Travis's plan, it fixed everything! His energy levels sprang back up, and his performance got back on track too.

In this module, Travis walks you through the plan he created for this client that was so
successful. That way, you can help your own athlete clients up their game with only minimal tweaks to their diet and lifestyle.

Case Study #2 - The Pre-Menopausal Mom (Female, 47 Years Old)

Travis had a woman come to her with low energy, weight gain around the mid-section, and low sex drive. To make things even more frustrating for her, she was already going to boot camp and keeping consistent with it.

With the Hormone Level Checklist, Travis found the missing link between all her hard work and the weight loss results she was hoping for.

In this module, Travis shows you the exact Checklist he filled out with her, and walks you
through the lifestyle discussion they had and the HRT plan he created for her. That way, you can help your soccer mom clients break through their plateaus and get results.

Additional Case Studies

For both of the above Case Studies, Travis will walk you through onboarding the client, filling out the Hormone Level Checklist, creating the coaching plan, and getting results for each client.

Plus, Travis will give you the same in-depth breakdown for these three case studies:
The CrossFitter suffering from fatigue and serious GI issues (female, 43 years old)
The hypothyroid night shift nurse (female, 29 years old)
The high-stress, sedentary lawyer suffering from low androgens (male, 48 years old)
Even If You Already Know 99% of Everything on Hormones, Keep Reading…
In the science of hormones, what you don't know will hurt you. There's really no such thing as
"close enough." Your clients are either going to get their hormones balanced and get results, or they're going to meet failure and frustration because their hormones are just slightly out of whack.
The 1% you don't know about hormones is KILLING your clients results right now.
I see this all the time with my coaching clients. I see otherwise knowledgeable, effective coaches get frustrated because their clients are plateauing or even backsliding. And to make things worse, these coaches THINK they know the cause of the problem and they're giving the client the wrong solution.
Or, worst of all, they think there's no hope for the client and they give up.
I don't want this to happen to you—and Travis and I'll make sure it doesn't happen to you by arming you with the latest research on hormones and the most proven tactics for balancing your clients' hormones.
Master the science of hormones so you can become the ultimate coach and deliver outstanding results to your clients. Massively increase your income with all the new clients, referrals, and renewed contracts you'll get by delivering better results, faster.
Like with every NCI module, I'm limiting sign ups to 100 total because I want to make sure you get the attention you deserve.
If you don't sign up now and secure your spot, it might not be there for you later. I've had hundreds of fitness professionals begging for my coaching since before NCI existed. That means this next meeting will fill up fast!
Click the button below to sign up for the Nutritional Coaching Institute Hormone Specialist Level 1 Certification!
Comes With Access to Online Video Course Modules